1 Orthopedic surgery clinic in Johannesburg
Prices for popular procedures:
Total hip replacement (Unilateral)

Total shoulder replacement

Shoulder arthroscopy

Rotator cuff repair

Total knee replacement (Unilateral)

SLAP repair surgery

Carpal tunnel surgery

Trigger finger release

Tailor's bunion surgery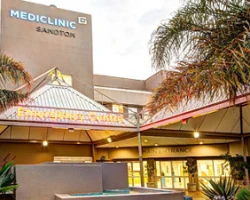 Johannesburg, South Africa
Specializations: Neurosurgery, Spine surgery, Orthopedic surgery, Oncology, Surgical oncology, Chemotherapy
Mediclinic Sandton is situated in Bryanston, in the northern suburbs of Johannesburg. Our 24-hour Emergency unit has a dedicated paediatric service designed to put our
read more
2 nearby similar clinics in South Africa
We found only 1 clinic in Johannesburg that matches your criteria, presented in the list above.
Perhaps you should consider 2 more clinics we have found nearby basing on your Location, Specialization filters applied.
Prices for popular procedures:
Total hip replacement (Unilateral)

Total shoulder replacement

Hip osteotomy

Arthroscopic meniscus repair

Shoulder arthroscopy

Rotator cuff repair

Knee arthroscopy

Arthroscopic reconstruction of the knee ligament

Total knee replacement (Unilateral)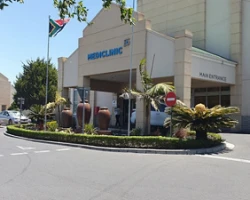 Specializations: Neurosurgery, Spine surgery, Orthopedic surgery, Oncology, Medical oncology, Radiation oncology, Chemotherapy
Mediclinic Durbanville provides patients with quality medical and nursing care for the best possible clinical outcomes in an environment where our patients are respected and
read more
Prices for popular procedures:
Total hip replacement (Unilateral)

Total shoulder replacement

Total knee replacement (Unilateral)

Diagnostic arthroscopy

Carpal tunnel surgery

Trigger finger release

Tailor's bunion surgery

Clubfoot surgical treatment

Morton's neuroma surgery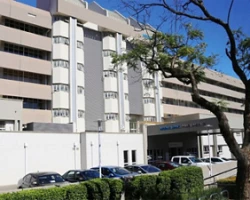 Specializations: Neurosurgery, Spine surgery, Orthopedic surgery, Oncology, Surgical oncology, Medical oncology, Radiation oncology
Mediclinic Muelmed is well-known as a multi-disciplinary acute care private hospital situated in Pretoria central. We are especially renowned for our excellence in emergency care,
read more