1 Vascular surgery clinic in Lajeado
Prices for popular procedures:
Peripheral artery angioplasty and stent placement

Arteriovenous (AV) fistula surgery

Endovascular thrombectomy

Uterine artery embolization (UAE)

Varicose veins treatment

Radiofrequency ablation (RFA) for varicose veins (Unilateral)

Foam sclerotherapy (Unilateral)

Endovenous laser ablation (EVLA) for varicose vein (Unilateral)

Phlebectomy (including mini-phleboctomy)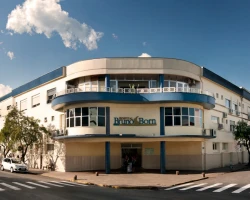 Specializations: Cardiac surgery, Vascular surgery, Thoracic surgery, Neurosurgery, Orthopedic surgery, Oncology, Surgical oncology, Medical oncology, Radiation oncology, Chemotherapy
Bruno Born Hospital is a philanthropic institution, with more than 80 years. It is registered with the National, State and Municipal Councils of Social Assistance
read more
Nearby clinics in Brazil
We found only 1 clinic in Lajeado that matches your criteria, presented in the list above.
Perhaps you should consider the following clinics we have found nearby basing on your Location, Specialization filters applied.