1 Vascular surgery clinic in Santiago
Prices for popular procedures:
Abdominal endovascular aneurysm repair (EVAR)

Thoracic endovascular aneurysm repair (TEVAR)

Arteriovenous (AV) fistula surgery

Endovascular thrombectomy

Varicose veins treatment

Radiofrequency ablation (RFA) for varicose veins (Unilateral)

Foam sclerotherapy (Unilateral)

Endovenous laser ablation (EVLA) for varicose vein (Unilateral)

Phlebectomy (including mini-phleboctomy)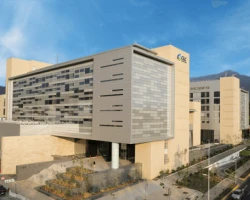 Specializations: Cardiac surgery, Vascular surgery, Thoracic surgery, Neurosurgery, Spine surgery, Orthopedic surgery, Oncology, Surgical oncology, Medical oncology, Radiation oncology, Chemotherapy
Las Condes Clinic was inaugurated in 1982 with the best quality standards, excellent medical equipment and state-of-the-art technology. The project was conceived with the purpose
read more
3 nearby similar clinics in Chile
We found only 1 clinic in Santiago that matches your criteria, presented in the list above.
Perhaps you should consider 3 more clinics we have found nearby basing on your Location, Specialization filters applied.