1 clinic in Cuenca
1 clinic specializing in Cardiac surgery, Neurosurgery, Oncology, Orthopedic surgery, Spine surgery, Thoracic surgery, and Vascular surgery in Cuenca.
Besides this clinic there are 11 clinics in Ecuador specialized in:
Cardiac surgery — 10 clinics
Vascular surgery — 10 clinics
Thoracic surgery — 8 clinics
Neurosurgery — 10 clinics
Spine surgery — 8 clinics
Orthopedic surgery — 11 clinics
Oncology — 10 clinics .
Such diseases are treated by Hospital Monte Sinaí, Cuenca: Abdominal aortic aneurysm (AAA), Abnormal uterine bleeding (AUB), Accessory navicular syndrome, Achalasia, Achilles tendon injury, and others.
Prices for popular procedures:
Implantable cardioverter-defibrillator implantation (ICD)

Hormone therapy for breast cancer

Chemotherapy for head and neck cancer

Chemotherapy for stomach cancer

Chemotherapy for colorectal cancer

Chemotherapy for liver cancer

Chemotherapy for pancreatic cancer

Chemotherapy for bladder cancer

Chemotherapy for ovarian cancer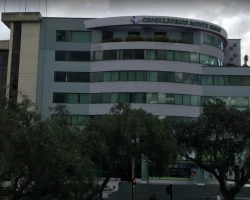 Specializations: Cardiac surgery, Vascular surgery, Thoracic surgery, Neurosurgery, Spine surgery, Orthopedic surgery, Oncology, Surgical oncology, Radiation oncology, Chemotherapy, Other treatment techniques
The Monte Sinaí Hospital is currently the largest Medical Center in the Austro in terms of infrastructure; We have more than 350 offices where more
read more
Nearby clinics in Ecuador
We found only 1 clinic in Cuenca that matches your criteria, presented in the list above.
Perhaps you should consider the following clinics we have found nearby basing on your Location filter applied.