1 clinic in Ganja
1 clinic specializing in Cardiac surgery, Neurosurgery, Oncology, Orthopedic surgery, Spine surgery, and Vascular surgery in Ganja.
Besides this clinic there are 6 clinics in Azerbaijan specialized in:
Cardiac surgery — 3 clinics
Vascular surgery — 5 clinics
Neurosurgery — 5 clinics
Spine surgery — 3 clinics
Orthopedic surgery — 5 clinics
Oncology — 6 clinics .
Such diseases are treated by Ganja International Hospital: Abdominal aortic aneurysm (AAA), Accessory navicular syndrome, Achilles tendon injury, Achondroplasia, Acoustic neuroma, and others.
Prices for popular procedures:
Endovenous laser ablation (EVLA) for varicose vein (Unilateral)

Catheter-directed sclerotherapy (CDS) (Unilateral)

Chemoembolization

Radical cystectomy

Percutaneous coronary intervention (PCI) with stent insertion

Cardiac catheterization

Percutaneous ASD closure

Percutaneous closure of ventricular septal defect (VSD)

Abdominal endovascular aneurysm repair (EVAR)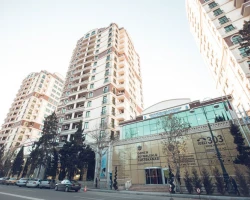 Specializations: Cardiac surgery, Vascular surgery, Neurosurgery, Spine surgery, Orthopedic surgery, Oncology, Surgical oncology, Medical oncology
Ganja International Hospital started operating on September 9, 2015. The total area of the five-storey hospital is 11,887 square meters. The hospital provides outpatient and
read more
6 nearby similar clinics in Azerbaijan
We found only 1 clinic in Ganja that matches your criteria, presented in the list above.
Perhaps you should consider 6 more clinics we have found nearby basing on your Location filter applied.