Bone defect treatment in 1 Orthopedic surgery clinic in Dhaka
1 clinic specializing in Orthopedic surgery providing treatment of Bone defect A bone defect refers to an area of missing or damaged bone tissue. It can be congenital or acquired due to trauma or disease. Treatment options depend on the size and location of the defect and may involve bone grafting or surgical reconstruction. disease in Dhaka.
Besides this clinic there are 10 Orthopedic surgery clinics in Dhaka and 15 clinics in Bangladesh.
Such diseases are treated by Ibn Sina Specialized Hospital,Dhanmondi: Benign bone tumor, Bone defect, Bone fracture, Hip osteonecrosis, Osteomyelitis, and others.
Prices for popular procedures:
Bone grafting

Total hip replacement (Unilateral)

Hip osteotomy

Arthroscopic meniscus repair

Knee arthroscopy

Arthroscopic reconstruction of the knee ligament

Total knee replacement (Unilateral)

Diagnostic arthroscopy

Osgood–Schlatter disease (OSD) surgery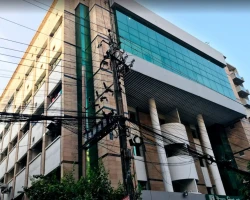 Specializations: Cardiac surgery, Vascular surgery, Thoracic surgery, Neurosurgery, Spine surgery, Orthopedic surgery, Oncology, Surgical oncology, Medical oncology
The Ibn Sina Hospital was established in July 1983, Keeping in Pace with continuous development of medical technologies,Ibn Sina hospital has been rendering its services
read more
Nearby clinics in Bangladesh
We found only 1 clinic in Dhaka that matches your criteria, presented in the list above.
Perhaps you should consider the following clinics we have found nearby basing on your Location, Specialization, Disease filters applied.
Countries with the highest number of clinics treating the diseases:
Related procedures: