1 clinic in Wuhu
1 clinic specializing in Cardiac surgery, Neurosurgery, Oncology, Orthopedic surgery, Spine surgery, Thoracic surgery, and Vascular surgery in Wuhu.
Besides this clinic there are 9 clinics in China specialized in:
Cardiac surgery — 7 clinics
Vascular surgery — 7 clinics
Thoracic surgery — 6 clinics
Neurosurgery — 9 clinics
Spine surgery — 9 clinics
Orthopedic surgery — 9 clinics
Oncology — 9 clinics .
Such diseases are treated by Wuhu conch hospital: Abnormal uterine bleeding (AUB), Accessory navicular syndrome, Achalasia, Achilles tendon injury, Acoustic neuroma, and others.
Prices for popular procedures:
Peripheral nerve repair

Hip osteotomy

Pancreaticoduodenectomy

Vertebroplasty

Arthroscopic reconstruction of the knee ligament

Knee arthroscopy

Permanent pacemaker implantation

Dual chamber pacemaker insertion

Percutaneous coronary intervention (PCI) with stent insertion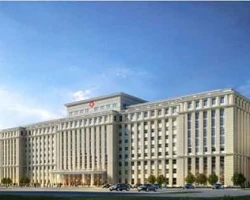 Specializations: Cardiac surgery, Vascular surgery, Thoracic surgery, Neurosurgery, Spine surgery, Orthopedic surgery, Oncology
Wuhu conch hospital is a large-scale comprehensive non-profit hospital invested by Anhui Conch Venture Capital Co., Ltd. In order to promote the development of social
read more
Nearby clinics in China
We found only 1 clinic in Wuhu that matches your criteria, presented in the list above.
Perhaps you should consider the following clinics we have found nearby basing on your Location filter applied.