1 clinic in Medan
1 clinic specializing in Cardiac surgery, Neurosurgery, Oncology, Orthopedic surgery, Thoracic surgery, and Vascular surgery in Medan.
Besides this clinic there are 17 clinics in Indonesia specialized in:
Cardiac surgery — 14 clinics
Vascular surgery — 15 clinics
Thoracic surgery — 6 clinics
Neurosurgery — 16 clinics
Orthopedic surgery — 14 clinics
Oncology — 14 clinics .
Such diseases are treated by Rumah Sakit Umum Imelda Pekerja: Abnormal uterine bleeding (AUB), Achalasia, Acoustic neuroma, Actinic keratosis, Acute limb ischemia, and others.
Prices for popular procedures:
Radiofrequency ablation (RFA) for varicose veins (Unilateral)

Esophageal stenting

Brain aneurysm repair

Brain aneurysm clipping

Microvascular decompression (MVD)

Arteriovenous malformation (AVM) resection

Brain tumors surgery

Endoscopic pituitary surgery

Cranioplasty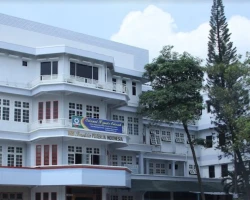 Specializations: Vascular surgery, Neurosurgery, Orthopedic surgery, Oncology, Surgical oncology, Medical oncology
Rumah Sakit Umum Imelda (RSU Imelda), Jalan Bilal No. 24 Medan, a private hospital that was established in 1983. The hospital, which is located in
read more
Nearby clinics in Indonesia
We found only 1 clinic in Medan that matches your criteria, presented in the list above.
Perhaps you should consider the following clinics we have found nearby basing on your Location filter applied.