1 clinic in H̱olon
1 clinic specializing in Cardiac surgery, Neurosurgery, Oncology, Orthopedic surgery, Spine surgery, Thoracic surgery, and Vascular surgery in H̱olon.
Besides this clinic there are 18 clinics in Israel specialized in:
Cardiac surgery — 16 clinics
Vascular surgery — 17 clinics
Thoracic surgery — 13 clinics
Neurosurgery — 16 clinics
Spine surgery — 16 clinics
Orthopedic surgery — 16 clinics
Oncology — 17 clinics .
Such diseases are treated by Edith Wolfson Medical Center: Abdominal aortic aneurysm (AAA), Abnormal uterine bleeding (AUB), Accessory navicular syndrome, Achalasia, Achilles tendon injury, and others.
Prices for popular procedures:
Radiofrequency ablation (RFA) for varicose veins (Unilateral)

Endovenous laser ablation (EVLA) for varicose vein (Unilateral)

Varicose vein stripping (Unilateral)

Phlebectomy (including mini-phleboctomy)

Catheter-directed sclerotherapy (CDS) (Unilateral)

Total shoulder replacement

Knee arthroscopy

Arthroscopic reconstruction of the knee ligament

Arthroscopic meniscus repair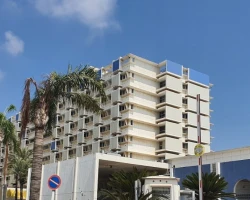 Specializations: Cardiac surgery, Vascular surgery, Thoracic surgery, Neurosurgery, Spine surgery, Orthopedic surgery, Oncology, Surgical oncology, Medical oncology, Radiation oncology, Chemotherapy
Languages: Arabic, English
Wolfson University Medical Center (WMC) is a public multi-disciplinary medical center in Holon that serves a population of approximately half a million inhabitants in central
read more
Nearby clinics in Israel
We found only 1 clinic in H̱olon that matches your criteria, presented in the list above.
Perhaps you should consider the following clinics we have found nearby basing on your Location filter applied.