1 clinic in Irbid
1 clinic specializing in Cardiac surgery, Neurosurgery, Oncology, Orthopedic surgery, Spine surgery, Thoracic surgery, and Vascular surgery in Irbid.
Besides this clinic there are 4 clinics in Jordan specialized in:
Cardiac surgery — 3 clinics
Vascular surgery — 4 clinics
Thoracic surgery — 3 clinics
Neurosurgery — 3 clinics
Spine surgery — 2 clinics
Orthopedic surgery — 4 clinics
Oncology — 4 clinics .
Such diseases are treated by King Abdullah University Hospital: Achalasia, Acoustic neuroma, Actinic keratosis, Acute compartment syndrome, Acute congestive heart failure, and others.
Prices for popular procedures:
Radiofrequency ablation (RFA) for varicose veins (Unilateral)

Endovenous laser ablation (EVLA) for varicose vein (Unilateral)

Varicose vein stripping (Unilateral)

Peripheral nerve repair

Nerve decompression surgery

Benign peripheral nerve tumor removal

Laminoplasty

Cardiac catheterization

Percutaneous ASD closure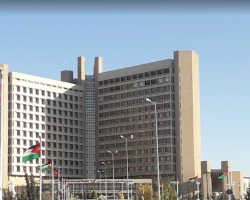 Specializations: Cardiac surgery, Vascular surgery, Thoracic surgery, Neurosurgery, Spine surgery, Orthopedic surgery, Oncology
King Abdullah University Hospital often abbreviated KAUH, is a hospital in Ar Ramtha, Jordan. It is the largest medical structure in the north of the
read more
4 nearby similar clinics in Jordan
We found only 1 clinic in Irbid that matches your criteria, presented in the list above.
Perhaps you should consider 4 more clinics we have found nearby basing on your Location filter applied.