1 Neurosurgery clinic in Ḩawallī
Prices for popular procedures:
Brain aneurysm repair

Brain aneurysm clipping

Microvascular decompression (MVD)

Arteriovenous malformation (AVM) resection

Surgical neurolysis

Epidural block

Embolization for cerebral arteriovenous malformation (AVM)

Facet joint injection

Brain tumor embolization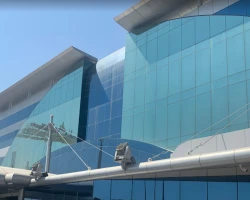 Specializations: Cardiac surgery, Vascular surgery, Neurosurgery, Spine surgery, Orthopedic surgery, Oncology, Surgical oncology
Hadi Clinic is the first (licensed as private hospital) in Kuwait. Provider of world-class medical services since 1976, It's acute care, general medical/surgical hospital whose
read more
5 nearby similar clinics in Kuwait
We found only 1 clinic in Ḩawallī that matches your criteria, presented in the list above.
Perhaps you should consider 5 more clinics we have found nearby basing on your Location, Specialization filters applied.