2 Spine surgery clinics in Salmiya
2 clinics specializing in Spine surgery in Salmiya.
Prices for popular procedures:
Laminectomy

Lumbar laminectomy

Instrumented spine stabilization

Spine dynamic stabilization

Cervical fusion

Anterior lumbar interbody fusion (ALIF)

Posterior lumbar interbody fusion (PLIF)

Interspinous fixation with implant

Percutaneous pedicle screw fixation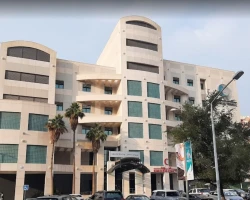 Specializations: Thoracic surgery, Neurosurgery, Spine surgery, Orthopedic surgery, Oncology, Surgical oncology
The New Mowasat Hospital is one of the first private hospital in Kuwait establish over half a century ago. Ever since, the hospital has grown
read more
Prices for popular procedures:
Portocaval anastomosis

Arteriovenous (AV) fistula surgery

Secondary Cimino arteriovenous anastomosis surgery

Peripheral artery bypass

Aortoiliac allografting

Femoral-popliteal bypass graft surgery

Endovascular thrombectomy

Renal artery bypass surgery

Endoscopic vein harvesting (EVH) for coronary artery bypass graft surgery (CABG)
Specializations: Vascular surgery, Thoracic surgery, Spine surgery, Orthopedic surgery, Oncology, Surgical oncology, Chemotherapy
Al Seef is a subsidiary of the United Medical Services Company (UMS) – a Closed Kuwaiti Shareholding Company established in 2003 to invest in the
read more
5 nearby similar clinics in Kuwait
We found only 2 clinics in Salmiya that match your criteria, presented in the list above.
Perhaps you should consider 5 more clinics we have found nearby basing on your Location, Specialization filters applied.
Clinics grouping by rating
Clinic with the highest rating of 3.8 — New Mowasat Hospital in Salmiya, Kuwait, clinic with the most reviews number of 510 — Al Seef Hospital in Salmiya, Kuwait.
With rating from 3.0 to 3.9 — 2 clinics.