1 clinic in Sungai Buloh
1 clinic specializing in Cardiac surgery, Neurosurgery, Oncology, Orthopedic surgery, Spine surgery, Thoracic surgery, and Vascular surgery in Sungai Buloh.
Besides this clinic there are 18 clinics in Malaysia specialized in:
Cardiac surgery — 16 clinics
Vascular surgery — 15 clinics
Thoracic surgery — 11 clinics
Neurosurgery — 13 clinics
Spine surgery — 15 clinics
Orthopedic surgery — 17 clinics
Oncology — 18 clinics .
Such diseases are treated by UiTM Private Specialist Centre: Abdominal aortic aneurysm (AAA), Abnormal uterine bleeding (AUB), Accessory navicular syndrome, Achalasia, Achilles tendon injury, and others.
Prices for popular procedures:
Percutaneous coronary intervention (PCI) with stent insertion

Off-pump coronary artery bypass

Heart valve replacement

Heart valve repair

Aortic valve replacement (AVR)

Mitral valve replacement (MVR)

Open chest surgery

Chest wall deformity correction

Repair of diaphragmatic hernia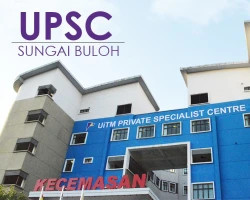 Specializations: Cardiac surgery, Vascular surgery, Thoracic surgery, Spine surgery, Orthopedic surgery, Oncology, Surgical oncology, Chemotherapy
Group of company UiTM Holdings Sdn. Bhd, UiTM Private Specialist Centre Sdn Bhd (UiTM PSC) is the 'private wing' of the Medical Faculty, operating at
read more
Nearby clinics in Malaysia
We found only 1 clinic in Sungai Buloh that matches your criteria, presented in the list above.
Perhaps you should consider the following clinics we have found nearby basing on your Location filter applied.