1 clinic in Jeonju
1 clinic specializing in Cardiac surgery, Neurosurgery, Oncology, Orthopedic surgery, Spine surgery, Thoracic surgery, and Vascular surgery in Jeonju.
Besides this clinic there are 18 clinics in South Korea specialized in:
Cardiac surgery — 17 clinics
Vascular surgery — 16 clinics
Thoracic surgery — 14 clinics
Neurosurgery — 18 clinics
Spine surgery — 17 clinics
Orthopedic surgery — 17 clinics
Oncology — 17 clinics .
Such diseases are treated by Jeonbuk National University Hospital: Abdominal aortic aneurysm (AAA), Abnormal uterine bleeding (AUB), Accessory navicular syndrome, Achilles tendon injury, Acoustic neuroma, and others.
Prices for popular procedures:
Lobectomy

Brain aneurysm clipping

Conization

Fontan procedure

Patent ductus arteriosus (PDA) ligation in children

Bilobectomy

Pneumonectomy

Atypical resections of the lung

Thoracoscopic lung resection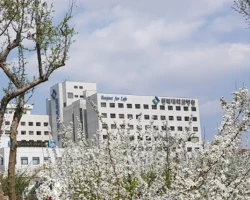 Specializations: Cardiac surgery, Vascular surgery, Neurosurgery, Spine surgery, Orthopedic surgery, Oncology, Surgical oncology, Medical oncology, Radiation oncology, Chemotherapy, Other treatment techniques
The Chon-buk National University Hospital to be responsible to public health in Jeonbuk from provincial hospital area practices medicine of love steadily Medical services with
read more
Nearby clinics in South Korea
We found only 1 clinic in Jeonju that matches your criteria, presented in the list above.
Perhaps you should consider the following clinics we have found nearby basing on your Location filter applied.