1 clinic in Brest
1 clinic specializing in Cardiac surgery, Neurosurgery, Oncology, Orthopedic surgery, Spine surgery, Thoracic surgery, and Vascular surgery in Brest.
Besides this clinic there are 6 clinics in Belarus specialized in:
Cardiac surgery — 3 clinics
Vascular surgery — 6 clinics
Thoracic surgery — 2 clinics
Neurosurgery — 4 clinics
Spine surgery — 4 clinics
Orthopedic surgery — 5 clinics
Oncology — 5 clinics .
Such diseases are treated by Brest Regional Clinical Hospital: Abdominal aortic aneurysm (AAA), Accessory navicular syndrome, Achilles tendon injury, Acoustic neuroma, Acromioclavicular joint instability, and others.
Prices for popular procedures:
Shoulder arthroscopy

Permanent pacemaker implantation

Dual chamber pacemaker insertion

Off-pump coronary artery bypass

Heart valve replacement

Heart valve repair

Transcatheter aortic valve replacement (TAVR)

Aortic valve replacement (AVR)

Mitral valve replacement (MVR)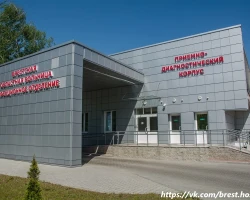 Specializations: Cardiac surgery, Vascular surgery, Thoracic surgery, Neurosurgery, Spine surgery, Orthopedic surgery, Oncology, Surgical oncology, Chemotherapy
Languages: English, Russian
Kidney transplantation has been introduced at the health care institution "Brest Regional Clinical Hospital" . More than 1,500 cardiac surgeries are performed annually in
read more
6 nearby similar clinics in Belarus
We found only 1 clinic in Brest that matches your criteria, presented in the list above.
Perhaps you should consider 6 more clinics we have found nearby basing on your Location filter applied.