1 clinic in Edegem
1 clinic specializing in Cardiac surgery, Neurosurgery, Oncology, Orthopedic surgery, Spine surgery, Thoracic surgery, and Vascular surgery in Edegem.
Besides this clinic there are 6 clinics in Belgium specialized in:
Cardiac surgery — 6 clinics
Vascular surgery — 5 clinics
Thoracic surgery — 4 clinics
Neurosurgery — 5 clinics
Spine surgery — 6 clinics
Orthopedic surgery — 6 clinics
Oncology — 6 clinics .
Such diseases are treated by Antwerp University Hospital (UZA): Abdominal aortic aneurysm (AAA), Accessory navicular syndrome, Achalasia, Achilles tendon injury, Acoustic neuroma, and others.
Prices for popular procedures:
Radiofrequency ablation (RFA)

Carotid angioplasty and stenting

Uterine artery embolization (UAE)

Esophageal dilation

Esophageal stenting

Surgery for lung cancer

Epidural block

Arteriovenous (AV) fistula surgery

Carotid endarterectomy (CEA)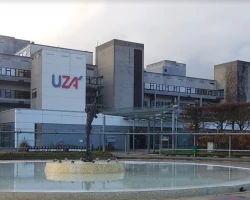 Specializations: Cardiac surgery, Vascular surgery, Thoracic surgery, Neurosurgery, Spine surgery, Orthopedic surgery, Oncology
The Antwerp University Hospital (UZA) is an academic centre renowned for leading clinical and customer-friendly patient care, high-quality academic education and ground-breaking scientific research with
read more
6 nearby similar clinics in Belgium
We found only 1 clinic in Edegem that matches your criteria, presented in the list above.
Perhaps you should consider 6 more clinics we have found nearby basing on your Location filter applied.