1 clinic in Gent
1 clinic specializing in Cardiac surgery, Neurosurgery, Oncology, Orthopedic surgery, Spine surgery, Thoracic surgery, and Vascular surgery in Gent.
Besides this clinic there are 6 clinics in Belgium specialized in:
Cardiac surgery — 6 clinics
Vascular surgery — 5 clinics
Thoracic surgery — 4 clinics
Neurosurgery — 5 clinics
Spine surgery — 6 clinics
Orthopedic surgery — 6 clinics
Oncology — 6 clinics .
Such diseases are treated by AZ Maria Middelares: Abdominal aortic aneurysm (AAA), Abnormal uterine bleeding (AUB), Accessory navicular syndrome, Achalasia, Achilles tendon injury, and others.
Prices for popular procedures:
Permanent pacemaker implantation

Dual chamber pacemaker insertion

Catheter cardiac ablation

Radiofrequency ablation (RFA)

Coronary artery bypass graft (CABG)

Off-pump coronary artery bypass

Cardiac catheterization

Percutaneous ASD closure

Percutaneous closure of ventricular septal defect (VSD)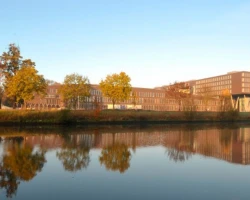 Specializations: Cardiac surgery, Vascular surgery, Thoracic surgery, Neurosurgery, Spine surgery, Orthopedic surgery, Oncology, Surgical oncology, Medical oncology, Radiation oncology, Chemotherapy, Other treatment techniques
The non-profit organization AZ Maria Middelares is an innovative hospital in the green outskirts of Ghent. In our continuous pursuit of quality-assured expert care, friendliness
read more
6 nearby similar clinics in Belgium
We found only 1 clinic in Gent that matches your criteria, presented in the list above.
Perhaps you should consider 6 more clinics we have found nearby basing on your Location filter applied.