1 clinic in Ronse
Prices for popular procedures:
Permanent pacemaker implantation

Dual chamber pacemaker insertion

Catheter cardiac ablation

Cardiac catheterization

Percutaneous ASD closure

Percutaneous closure of ventricular septal defect (VSD)

Peripheral nerve repair

Nerve decompression surgery

Benign peripheral nerve tumor removal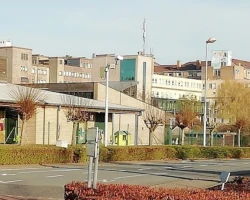 Specializations: Cardiac surgery, Neurosurgery, Spine surgery, Orthopedic surgery, Oncology
In the az Glorieux, high-quality care comes first and the patient comes first. The hospital offers an excellent location on the language border of the
read more
6 nearby similar clinics in Belgium
We found only 1 clinic in Ronse that matches your criteria, presented in the list above.
Perhaps you should consider 6 more clinics we have found nearby basing on your Location filter applied.