1 clinic in Cheb
1 clinic specializing in Cardiac surgery, Oncology, Orthopedic surgery, Spine surgery, Thoracic surgery, and Vascular surgery in Cheb.
Besides this clinic there are 37 clinics in Czech Republic specialized in:
Cardiac surgery — 18 clinics
Vascular surgery — 32 clinics
Thoracic surgery — 14 clinics
Spine surgery — 18 clinics
Orthopedic surgery — 32 clinics
Oncology — 34 clinics .
Such diseases are treated by Cheb Hospital: Achalasia, Acute ST-elevation myocardial infarction (STEMI), Acute limb ischemia, Adenocarcinoma of the ileum, Anorectal cancer, and others.
Prices for popular procedures:
Radiofrequency ablation (RFA) for varicose veins (Unilateral)

Peripheral artery angioplasty and stent placement

Percutaneous coronary intervention (PCI) with stent insertion

Renal artery angioplasty and stenting

Varicose veins treatment

Endovenous laser ablation (EVLA) for varicose vein (Unilateral)

Varicose vein stripping (Unilateral)

Catheter-directed sclerotherapy (CDS) (Unilateral)

Foam sclerotherapy (Unilateral)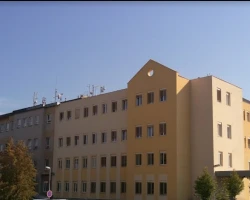 Specializations: Vascular surgery, Thoracic surgery, Spine surgery, Orthopedic surgery, Oncology, Surgical oncology, Medical oncology, Radiation oncology
To ensure quality and affordable health care in the interests of maximum patient satisfaction. To create a motivating and friendly working environment for work teams
read more
Nearby clinics in Czech Republic
We found only 1 clinic in Cheb that matches your criteria, presented in the list above.
Perhaps you should consider the following clinics we have found nearby basing on your Location filter applied.