1 clinic in Liberec
1 clinic specializing in Cardiac surgery, Neurosurgery, Oncology, Orthopedic surgery, Spine surgery, Thoracic surgery, and Vascular surgery in Liberec.
Besides this clinic there are 37 clinics in Czech Republic specialized in:
Cardiac surgery — 18 clinics
Vascular surgery — 32 clinics
Thoracic surgery — 14 clinics
Neurosurgery — 19 clinics
Spine surgery — 18 clinics
Orthopedic surgery — 32 clinics
Oncology — 34 clinics .
Such diseases are treated by Liberec Regional Hospital: Abdominal aortic aneurysm (AAA), Abnormal uterine bleeding (AUB), Accessory navicular syndrome, Achalasia, Achilles tendon injury, and others.
Prices for popular procedures:
Radiofrequency ablation (RFA) for varicose veins (Unilateral)

Dual chamber pacemaker insertion

Catheter cardiac ablation

Carotid endarterectomy (CEA)

Uterine artery embolization (UAE)

Varicose veins treatment

Unilateral varicose veins surgery

Endovenous laser ablation (EVLA) for varicose vein (Unilateral)

Varicose vein stripping (Unilateral)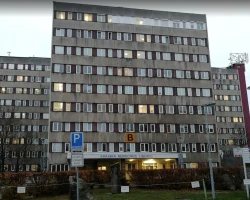 Specializations: Cardiac surgery, Vascular surgery, Thoracic surgery, Neurosurgery, Spine surgery, Orthopedic surgery, Oncology
Krajská nemocnice Liberec provides highly specialized medical care, standard specialized and follow-up care, follow-up care and corresponding inpatient, outpatient and other health care/ as part
read more
Nearby clinics in Czech Republic
We found only 1 clinic in Liberec that matches your criteria, presented in the list above.
Perhaps you should consider the following clinics we have found nearby basing on your Location filter applied.