1 clinic in Velké Meziříčí
1 clinic specializing in Cardiac surgery, Neurosurgery, Oncology, Orthopedic surgery, Spine surgery, and Vascular surgery in Velké Meziříčí.
Besides this clinic there are 37 clinics in Czech Republic specialized in:
Cardiac surgery — 18 clinics
Vascular surgery — 32 clinics
Neurosurgery — 19 clinics
Spine surgery — 18 clinics
Orthopedic surgery — 32 clinics
Oncology — 34 clinics .
Such diseases are treated by St. Zdislava Hospital: Abdominal aortic aneurysm (AAA), Accessory navicular syndrome, Achilles tendon injury, Acromioclavicular joint injury, Acromioclavicular joint instability, and others.
Prices for popular procedures:
Radiofrequency ablation (RFA) for varicose veins (Unilateral)

Endovenous laser ablation (EVLA) for varicose vein (Unilateral)

Varicose vein stripping (Unilateral)

Phlebectomy (including mini-phleboctomy)

Catheter-directed sclerotherapy (CDS) (Unilateral)

Foam sclerotherapy (Unilateral)

Laminectomy

Knee arthroscopy

Rotator cuff repair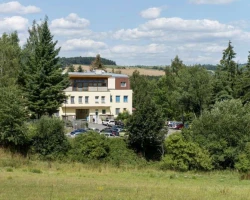 Velké Meziříčí, Czech Republic
Specializations: Vascular surgery, Spine surgery, Orthopedic surgery, Oncology, Surgical oncology
Languages: English, Hungarian, Russian
We provide a wide range of outpatient and inpatient care. We perform highly qualified procedures - mini-invasive gastric bands, large joint replacements or robotic prostate,
read more
Nearby clinics in Czech Republic
We found only 1 clinic in Velké Meziříčí that matches your criteria, presented in the list above.
Perhaps you should consider the following clinics we have found nearby basing on your Location filter applied.