1 clinic in 's-Hertogenbosch
1 clinic specializing in Cardiac surgery, Neurosurgery, Oncology, Orthopedic surgery, Spine surgery, Thoracic surgery, and Vascular surgery in 's-Hertogenbosch.
Besides this clinic there are 9 clinics in Netherlands specialized in:
Cardiac surgery — 8 clinics
Vascular surgery — 8 clinics
Thoracic surgery — 4 clinics
Neurosurgery — 9 clinics
Spine surgery — 7 clinics
Orthopedic surgery — 9 clinics
Oncology — 8 clinics .
Such diseases are treated by Jeroen Bosch Ziekenhuis: Abdominal aortic aneurysm (AAA), Abnormal uterine bleeding (AUB), Accessory navicular syndrome, Achilles tendon injury, Acromioclavicular joint injury, and others.
Prices for popular procedures:
Radiofrequency ablation (RFA)

Radical cystectomy

Chemotherapy for bladder cancer

Varicose vein stripping (Unilateral)

Heart valve replacement

Implantable cardioverter-defibrillator implantation (ICD)

Radical prostatectomy

Intracavitary chemotherapy

Radical nephrectomy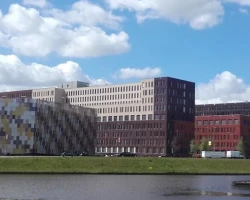 's-Hertogenbosch, Netherlands
Specializations: Cardiac surgery, Vascular surgery, Thoracic surgery, Neurosurgery, Spine surgery, Orthopedic surgery, Oncology
Together we determine what you need and from whom, so that you can live the life you want for as long as possible. We use
read more
Nearby clinics in Netherlands
We found only 1 clinic in 's-Hertogenbosch that matches your criteria, presented in the list above.
Perhaps you should consider the following clinics we have found nearby basing on your Location filter applied.