1 clinic in Toruń
1 clinic specializing in Dentistry, Neurosurgery, Oncology, Orthopedic surgery, Spine surgery, and Vascular surgery in Toruń.
Besides this clinic there are 31 clinics in Poland specialized in:
Vascular surgery — 17 clinics
Neurosurgery — 16 clinics
Spine surgery — 18 clinics
Orthopedic surgery — 22 clinics
Oncology — 20 clinics
Dentistry — 7 clinics .
Such diseases are treated by Cito Care Hospital: Abnormal uterine bleeding (AUB), Accessory navicular syndrome, Achilles tendon injury, Acromioclavicular joint injury, Acromioclavicular joint instability, and others.
Prices for popular procedures:
Total knee replacement (Unilateral)

Total hip replacement (Unilateral)

Total shoulder replacement

Tooth restoration

Tooth extraction

Wisdom tooth extraction

Laparoscopic cholecystectomy

Unilateral varicose veins surgery

Phlebectomy (including mini-phleboctomy)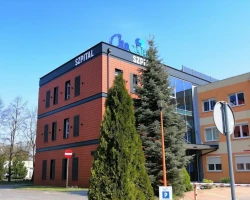 Specializations: Vascular surgery, Neurosurgery, Spine surgery, Orthopedic surgery, Oncology, Surgical oncology, Dentistry
Our facilities include modern equipment and global technologies used in our facility, which translate into a guarantee of patient comfort and safety. We have two
read more
Nearby clinics in Poland
We found only 1 clinic in Toruń that matches your criteria, presented in the list above.
Perhaps you should consider the following clinics we have found nearby basing on your Location filter applied.