1 clinic in Krasnodar
1 clinic specializing in Neurosurgery, Oncology, Orthopedic surgery, Spine surgery, Thoracic surgery, and Vascular surgery in Krasnodar.
Besides this clinic there are 42 clinics in Russia specialized in:
Vascular surgery — 34 clinics
Thoracic surgery — 16 clinics
Neurosurgery — 31 clinics
Spine surgery — 31 clinics
Orthopedic surgery — 29 clinics
Oncology — 38 clinics .
Such diseases are treated by WMT clinic: Abnormal uterine bleeding (AUB), Accessory navicular syndrome, Achilles tendon injury, Achondroplasia, Acromioclavicular joint injury, and others.
Prices for popular procedures:
Varicose veins treatment

Radiofrequency ablation (RFA) for varicose veins (Unilateral)

Foam sclerotherapy (Unilateral)

Endovenous laser ablation (EVLA) for varicose vein (Unilateral)

Phlebectomy (including mini-phleboctomy)

Catheter-directed sclerotherapy (CDS) (Unilateral)

Nerve decompression surgery

Epidural block

Spinal cord stimulation (SCS)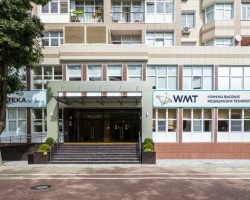 Specializations: Vascular surgery, Neurosurgery, Spine surgery, Orthopedic surgery, Oncology, Surgical oncology, Medical oncology, Chemotherapy, Other treatment techniques
The WMT Clinic of High Medical Technologies was created to make available to residents of the Krasnodar Territory and Russia the treatment that is used
read more
Nearby clinics in Russia
We found only 1 clinic in Krasnodar that matches your criteria, presented in the list above.
Perhaps you should consider the following clinics we have found nearby basing on your Location filter applied.