1 clinic in Ankaran
Prices for popular procedures:
Arthroscopic reconstruction of the knee ligament

Total hip replacement (Unilateral)

Laminectomy

Discectomy

Surgical neurolysis

Epidural block

Percutaneous endoscopic lumbar discectomy (PELD)

Kyphoplasty

Nucleoplasty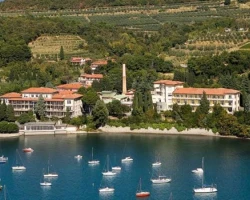 Specializations: Neurosurgery, Spine surgery, Orthopedic surgery
Our hospital was founded in 1909 as a sanatoryum for bone diseases for the Austro-Hungarian Empire. After World War I it was renovated by the
read more
3 nearby similar clinics in Slovenia
We found only 1 clinic in Ankaran that matches your criteria, presented in the list above.
Perhaps you should consider 3 more clinics we have found nearby basing on your Location filter applied.