1 clinic in Sevilla
1 clinic specializing in Cardiac surgery, Neurosurgery, Oncology, Orthopedic surgery, Spine surgery, Thoracic surgery, and Vascular surgery in Sevilla.
Besides this clinic there are 28 clinics in Spain specialized in:
Cardiac surgery — 23 clinics
Vascular surgery — 25 clinics
Thoracic surgery — 21 clinics
Neurosurgery — 24 clinics
Spine surgery — 25 clinics
Orthopedic surgery — 27 clinics
Oncology — 28 clinics .
Such diseases are treated by Hospital Quironsalud Sagrado Corazón: Abdominal aortic aneurysm (AAA), Abnormal uterine bleeding (AUB), Accessory navicular syndrome, Achalasia, Achilles tendon injury, and others.
Prices for popular procedures:
Surgical neurolysis

Permanent pacemaker implantation

Catheter cardiac ablation

Radiofrequency ablation (RFA)

Coronary catheterization

Fontan procedure

Patent ductus arteriosus (PDA) ligation in children

Coronary artery bypass graft (CABG)

Off-pump coronary artery bypass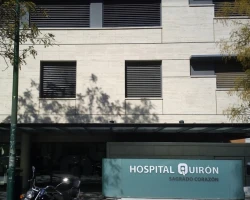 Specializations: Cardiac surgery, Vascular surgery, Thoracic surgery, Neurosurgery, Spine surgery, Orthopedic surgery, Oncology
The Quirónsalud Sagrado Corazón Hospital is a leading private medical-surgical health center both in Seville and Andalusia, dedicated to health care understood as prevention, diagnosis,
read more
Nearby clinics in Spain
We found only 1 clinic in Sevilla that matches your criteria, presented in the list above.
Perhaps you should consider the following clinics we have found nearby basing on your Location filter applied.