1 clinic in Edinburgh
Prices for popular procedures:
Arthroscopic reconstruction of the knee ligament

Catheter-directed sclerotherapy (CDS) (Unilateral)

Radiofrequency ablation (RFA) for varicose veins (Unilateral)

Endovenous laser ablation (EVLA) for varicose vein (Unilateral)

Varicose veins treatment

Unilateral varicose veins surgery

Varicose vein stripping (Unilateral)

Phlebectomy (including mini-phleboctomy)

Foam sclerotherapy (Unilateral)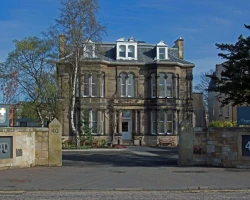 Edinburgh, United Kingdom
Specializations: Vascular surgery, Spine surgery, Orthopedic surgery, Oncology, Surgical oncology, Chemotherapy
The Edinburgh Clinic was set up in 2008 and offers fast access to outpatient appointments, diagnostic services and day surgery. We are located close to
read more
Nearby clinics in United Kingdom
We found only 1 clinic in Edinburgh that matches your criteria, presented in the list above.
Perhaps you should consider the following clinics we have found nearby basing on your Location filter applied.