1 clinic in Patna
1 clinic specializing in Cardiac surgery, Neurosurgery, Oncology, Orthopedic surgery, Spine surgery, Thoracic surgery, and Vascular surgery in Patna.
Besides this clinic there are 52 clinics in India specialized in:
Cardiac surgery — 41 clinics
Vascular surgery — 44 clinics
Thoracic surgery — 36 clinics
Neurosurgery — 46 clinics
Spine surgery — 38 clinics
Orthopedic surgery — 44 clinics
Oncology — 49 clinics .
Such diseases are treated by Jay Prabha Medanta Super Speciality Hospital: Abdominal aortic aneurysm (AAA), Achalasia, Acoustic neuroma, Acromioclavicular joint injury, Acromioclavicular joint instability, and others.
Prices for popular procedures:
Catheter cardiac ablation

Radiofrequency ablation (RFA)

Off-pump coronary artery bypass

Heart valve replacement

Heart valve repair

Transcatheter aortic valve replacement (TAVR)

Aortic valve replacement (AVR)

Mitral valve replacement (MVR)

Renal artery angioplasty and stenting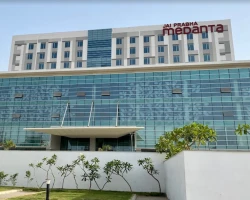 Specializations: Cardiac surgery, Vascular surgery, Thoracic surgery, Neurosurgery, Spine surgery, Orthopedic surgery, Oncology, Surgical oncology, Medical oncology, Radiation oncology, Chemotherapy, Other treatment techniques
Jay Prabha Medanta offers the highest quality healthcare delivered by best-in-class doctors committed to providing care with compassion. An ecosystem of excellence, Jay Prabha Medanta,
read more
Nearby clinics in India
We found only 1 clinic in Patna that matches your criteria, presented in the list above.
Perhaps you should consider the following clinics we have found nearby basing on your Location filter applied.