1 clinic in Setagaya-ku
1 clinic specializing in Cardiac surgery, Neurosurgery, Oncology, Orthopedic surgery, Spine surgery, and Vascular surgery in Setagaya-ku.
Besides this clinic there are 14 clinics in Japan specialized in:
Cardiac surgery — 13 clinics
Vascular surgery — 14 clinics
Neurosurgery — 13 clinics
Spine surgery — 10 clinics
Orthopedic surgery — 11 clinics
Oncology — 13 clinics .
Such diseases are treated by National Center for Child Health and Development (NCCHD): Acoustic neuroma, Acute congestive heart failure, Acute limb ischemia, Acute lymphoblastic leukemia (ALL), Acute myeloid leukemia (AML), and others.
Prices for popular procedures:
Endoscopic pituitary surgery

Cranioplasty

Fontan procedure

Patent ductus arteriosus (PDA) ligation in children

Arteriovenous (AV) fistula surgery

Endovascular thrombectomy

Embolization for cerebral arteriovenous malformation (AVM)

Microvascular decompression (MVD)

Arteriovenous malformation (AVM) resection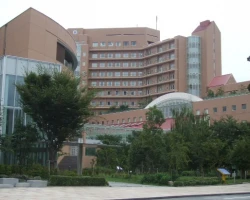 Specializations: Cardiac surgery, Vascular surgery, Neurosurgery, Spine surgery, Orthopedic surgery, Oncology
The hospital of the National Center for Child Health and Development (NCCHD) is the only national hospital in Japan to encompass the four areas of
read more
Nearby clinics in Japan
We found only 1 clinic in Setagaya-ku that matches your criteria, presented in the list above.
Perhaps you should consider the following clinics we have found nearby basing on your Location filter applied.