1 clinic in Seesen
1 clinic specializing in Cardiac surgery, Neurosurgery, Oncology, Orthopedic surgery, Spine surgery, Thoracic surgery, and Vascular surgery in Seesen.
Besides this clinic there are 55 clinics in Germany specialized in:
Cardiac surgery — 41 clinics
Vascular surgery — 52 clinics
Thoracic surgery — 29 clinics
Neurosurgery — 48 clinics
Spine surgery — 47 clinics
Orthopedic surgery — 49 clinics
Oncology — 47 clinics .
Such diseases are treated by Asklepios Kliniken Schildautal, Seesen: Abdominal aortic aneurysm (AAA), Accessory navicular syndrome, Achalasia, Achilles tendon injury, Acoustic neuroma, and others.
Prices for popular procedures:
Microvascular decompression (MVD)

Arteriovenous malformation (AVM) resection

Brain tumors surgery

Endoscopic pituitary surgery

Cranioplasty

Brain shunt surgery

Peripheral nerve repair

Nerve decompression surgery

Benign peripheral nerve tumor removal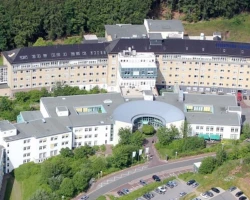 Specializations: Vascular surgery, Neurosurgery, Spine surgery, Orthopedic surgery, Oncology, Surgical oncology
The Asklepios clinics in Schildautal were built between 1954 and 1956 by the state insurance company in Braunschweig and were a lung sanatorium until 1974.
read more
Nearby clinics in Germany
We found only 1 clinic in Seesen that matches your criteria, presented in the list above.
Perhaps you should consider the following clinics we have found nearby basing on your Location filter applied.