1 clinic in Wiesbaden
1 clinic specializing in Cardiac surgery, Neurosurgery, Oncology, Spine surgery, and Vascular surgery in Wiesbaden.
Besides this clinic there are 55 clinics in Germany specialized in:
Cardiac surgery — 41 clinics
Vascular surgery — 52 clinics
Neurosurgery — 48 clinics
Spine surgery — 47 clinics
Oncology — 47 clinics .
Such diseases are treated by DKD Helios Klinik, Wiesbaden: Acute limb ischemia, Acute lymphoblastic leukemia (ALL), Acute myeloid leukemia (AML), Adenocarcinoma of the ileum, Adrenoleukodystrophy, and others.
Prices for popular procedures:
Arteriovenous (AV) fistula surgery

Epidural block

Laminectomy

Cervical fusion

Percutaneous pedicle screw fixation

Spine dynamic stabilization

Discectomy

Hemicolectomy

Rectum anterior resection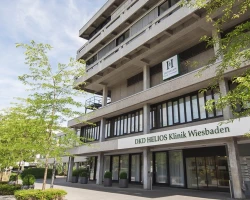 Specializations: Cardiac surgery, Vascular surgery, Neurosurgery, Spine surgery, Oncology
The DKD Helios Hospital Wiesbaden was established in 1970 as the German Hospital for Diagnostics following the model of the Mayo Clinic in Rochester, USA.
read more
Nearby clinics in Germany
We found only 1 clinic in Wiesbaden that matches your criteria, presented in the list above.
Perhaps you should consider the following clinics we have found nearby basing on your Location filter applied.