1 clinic in Győr
1 clinic specializing in Cardiac surgery, Neurosurgery, Oncology, Orthopedic surgery, Spine surgery, Thoracic surgery, and Vascular surgery in Győr.
Besides this clinic there are 28 clinics in Hungary specialized in:
Cardiac surgery — 11 clinics
Vascular surgery — 21 clinics
Thoracic surgery — 7 clinics
Neurosurgery — 14 clinics
Spine surgery — 12 clinics
Orthopedic surgery — 22 clinics
Oncology — 26 clinics .
Such diseases are treated by Petz Aladár County University Hospital: Acoustic neuroma, Acromioclavicular joint injury, Acromioclavicular joint instability, Acromioclavicular osteoarthritis, Actinic keratosis, and others.
Prices for popular procedures:
Arteriovenous (AV) fistula surgery

Endovascular thrombectomy

Embolization for cerebral arteriovenous malformation (AVM)

Brain aneurysm repair

Brain aneurysm clipping

Microvascular decompression (MVD)

Arteriovenous malformation (AVM) resection

Brain tumors surgery

Endoscopic pituitary surgery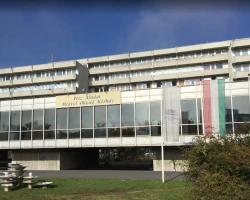 Specializations: Cardiac surgery, Vascular surgery, Thoracic surgery, Neurosurgery, Spine surgery, Orthopedic surgery, Oncology
Petz Aladár County University Hospital in Gyor is one of the largest in Hungary, and it is our designated hospital for specialty care. It
read more
Nearby clinics in Hungary
We found only 1 clinic in Győr that matches your criteria, presented in the list above.
Perhaps you should consider the following clinics we have found nearby basing on your Location filter applied.