1 clinic in Águeda
1 clinic specializing in Cardiac surgery, Neurosurgery, Oncology, Orthopedic surgery, Spine surgery, Thoracic surgery, and Vascular surgery in Águeda.
Besides this clinic there are 16 clinics in Portugal specialized in:
Cardiac surgery — 11 clinics
Vascular surgery — 16 clinics
Thoracic surgery — 7 clinics
Neurosurgery — 16 clinics
Spine surgery — 16 clinics
Orthopedic surgery — 16 clinics
Oncology — 16 clinics .
Such diseases are treated by Hospital da Luz Clínica de Águeda: Acoustic neuroma, Acromioclavicular joint injury, Acromioclavicular joint instability, Acromioclavicular osteoarthritis, Acute compartment syndrome, and others.
Prices for popular procedures:
Radical cystectomy

Transurethral resection of bladder tumor (TURBT)

Radical nephrectomy

Radical prostatectomy

Transurethral resection of the prostate (TURP)

Arteriovenous (AV) fistula surgery

Endovascular thrombectomy

Carotid endarterectomy (CEA)

Carotid angioplasty and stenting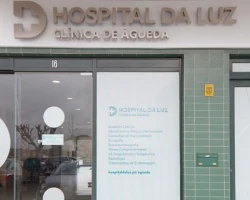 Specializations: Cardiac surgery, Vascular surgery, Thoracic surgery, Neurosurgery, Spine surgery, Orthopedic surgery, Oncology
Languages: Arabic, Chinese, English, French, German, Russian
The Hospital da Luz Clínica de Águeda, located near the center of the city, provides a differentiated medical service and with all the comfort. The
read more
Nearby clinics in Portugal
We found only 1 clinic in Águeda that matches your criteria, presented in the list above.
Perhaps you should consider the following clinics we have found nearby basing on your Location filter applied.