1 clinic in Guangzhou
1 clinic specializing in Cardiac surgery, Neurosurgery, Oncology, Orthopedic surgery, Spine surgery, Thoracic surgery, and Vascular surgery in Guangzhou.
Besides this clinic there are 9 clinics in China specialized in:
Cardiac surgery — 7 clinics
Vascular surgery — 7 clinics
Thoracic surgery — 6 clinics
Neurosurgery — 9 clinics
Spine surgery — 9 clinics
Orthopedic surgery — 9 clinics
Oncology — 9 clinics .
Such diseases are treated by Clifford Hospital of Guangzhou: Abdominal aortic aneurysm (AAA), Abnormal uterine bleeding (AUB), Achalasia, Acoustic neuroma, Actinic keratosis, and others.
Prices for popular procedures:
Loop electrosurgical excision procedure (LEEP)

Total laparoscopic hysterectomy (TLH)

Off-pump coronary artery bypass

Transcatheter aortic valve replacement (TAVR)

Aortic valve replacement (AVR)

Mitral valve replacement (MVR)

Total thyroidectomy

Total esophagectomy

Total gastrectomy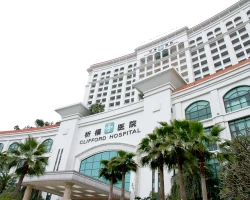 Specializations: Cardiac surgery, Vascular surgery, Thoracic surgery, Neurosurgery, Spine surgery, Orthopedic surgery, Oncology
Languages: Arabic, English, French, Indonesian, Japanese, Korean, Russian
Founded in 2001, Clifford Hospital covers an area of 90,000 square meters, with a capacity of 650 licensed inpatient beds. The hospital serves 3000 outpatient
read more
Nearby clinics in China
We found only 1 clinic in Guangzhou that matches your criteria, presented in the list above.
Perhaps you should consider the following clinics we have found nearby basing on your Location filter applied.