1 clinic in Mohali
1 clinic specializing in Cardiac surgery, Dentistry, Neurosurgery, Oncology, Orthopedic surgery, Spine surgery, Thoracic surgery, and Vascular surgery in Mohali.
Besides this clinic there are 58 clinics in India specialized in:
Cardiac surgery — 41 clinics
Vascular surgery — 44 clinics
Thoracic surgery — 36 clinics
Neurosurgery — 46 clinics
Spine surgery — 38 clinics
Orthopedic surgery — 44 clinics
Oncology — 49 clinics
Dentistry — 16 clinics .
Such diseases are treated by Max Super Speciality Hospital, Mohali: Abdominal aortic aneurysm (AAA), Abnormal tooth wear, Abnormal uterine bleeding (AUB), Acoustic neuroma, Acromioclavicular joint injury, and others.
Prices for popular procedures:
Image-guided radiation therapy (IGRT)

Intensity-modulated radiation therapy (IMRT)

Coronary catheterization

Laminectomy

Instrumented spine stabilization

Laminoplasty

Anterior cervical discectomy and fusion (ACDF)

Arthroscopic reconstruction of the knee ligament

Heart valve replacement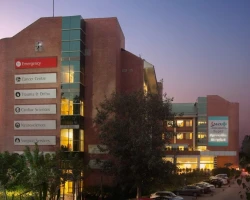 Specializations: Cardiac surgery, Vascular surgery, Thoracic surgery, Neurosurgery, Spine surgery, Orthopedic surgery, Oncology, Surgical oncology, Medical oncology, Radiation oncology, Chemotherapy, Other treatment techniques, Dentistry
Max Super Speciality Hospital, Mohali is a unit of Hometrail Estate Pvt. Ltd., offering services across medical disciplines of Neurosciences, Cardiac Sciences, Cancer Care, Orthopaedics,
read more
Nearby clinics in India
We found only 1 clinic in Mohali that matches your criteria, presented in the list above.
Perhaps you should consider the following clinics we have found nearby basing on your Location filter applied.