1 clinic in Blumenau
1 clinic specializing in Cardiac surgery, Neurosurgery, Oncology, Orthopedic surgery, Thoracic surgery, and Vascular surgery in Blumenau.
Besides this clinic there are 57 clinics in Brazil specialized in:
Cardiac surgery — 49 clinics
Vascular surgery — 53 clinics
Thoracic surgery — 43 clinics
Neurosurgery — 50 clinics
Orthopedic surgery — 52 clinics
Oncology — 56 clinics .
Such diseases are treated by Hospital Santa Catarina, Blumenau: Abnormal uterine bleeding (AUB), Achalasia, Actinic keratosis, Acute limb ischemia, Acute lymphoblastic leukemia (ALL), and others.
Prices for popular procedures:
Coronary catheterization

Coronary artery bypass graft (CABG)

Unilateral varicose veins surgery

Radiofrequency ablation (RFA) for varicose veins (Unilateral)

Endovenous laser ablation (EVLA) for varicose vein (Unilateral)

Phlebectomy (including mini-phleboctomy)

Catheter-directed sclerotherapy (CDS) (Unilateral)

Foam sclerotherapy (Unilateral)

Thoracentesis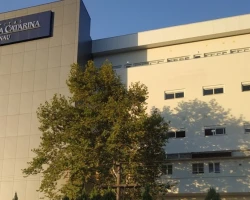 Specializations: Cardiac surgery, Vascular surgery, Thoracic surgery, Neurosurgery, Orthopedic surgery, Oncology
HSC Blumenau was born from a big dream. A dream that was only possible to come true with the valuable collaboration of the people of
read more
Nearby clinics in Brazil
We found only 1 clinic in Blumenau that matches your criteria, presented in the list above.
Perhaps you should consider the following clinics we have found nearby basing on your Location filter applied.