1 clinic in Estrela
1 clinic specializing in Cardiac surgery, Neurosurgery, Oncology, Orthopedic surgery, Spine surgery, Thoracic surgery, and Vascular surgery in Estrela.
Besides this clinic there are 57 clinics in Brazil specialized in:
Cardiac surgery — 49 clinics
Vascular surgery — 53 clinics
Thoracic surgery — 43 clinics
Neurosurgery — 50 clinics
Spine surgery — 41 clinics
Orthopedic surgery — 52 clinics
Oncology — 56 clinics .
Such diseases are treated by Hospital Estrela - Divina Providência: Abdominal aortic aneurysm (AAA), Abnormal uterine bleeding (AUB), Achalasia, Acoustic neuroma, Actinic keratosis, and others.
Prices for popular procedures:
Radiofrequency ablation (RFA)

Coronary catheterization

Coronary artery bypass graft (CABG)

Off-pump coronary artery bypass

Cardiac catheterization

Percutaneous ASD closure

Percutaneous closure of ventricular septal defect (VSD)

Abdominal endovascular aneurysm repair (EVAR)

Thoracic endovascular aneurysm repair (TEVAR)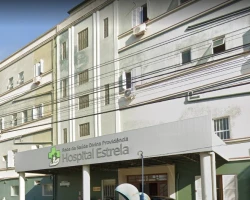 Specializations: Cardiac surgery, Vascular surgery, Thoracic surgery, Neurosurgery, Spine surgery, Orthopedic surgery, Oncology
Founded on May 31, 1969, Hospital Divina is one of the institutions that make up the Divina Providência Health Network (RSDP) - also formed by
read more
Nearby clinics in Brazil
We found only 1 clinic in Estrela that matches your criteria, presented in the list above.
Perhaps you should consider the following clinics we have found nearby basing on your Location filter applied.